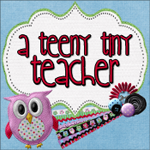 Hey peeps! It's Kristin from A Teeny Tiny Teacher. I'm a guest over here on Rebecca's blog because she won this in a giveaway. Huh? I know. But it's true. Instead of buying a gift card for her, I am just going to write one of my normal posts over here. I feel like I'm getting away with something. (Dave Ramsey would be proud.) By the way, I love Rebecca and I feel quite comfy over here. I may stay awhile.
Yesterday, I wrote all about how I'm using Angry Birds as a management tool in my classroom. And I mentioned that one of our class rewards was that I let the kids sit wherever they wanted to on the carpet. ALL DAY. That was HUGE. I don't think I could have offered this to my class last year. Not without running the risk of ending up in a mental institution.
But my class earned it. And they're sweet. And I don't have anyone throwing chairs or dirt or rocks this year so I was pretty sure we could do it.
(Do you have assigned seating on the carpet? I just can't help it. I need my struggling kids up front. I have to have my wiggle worms close enough so that I can bop tap them on the head. I need to separate the talkers. I prefer to have the ones who come back from lunch with tummy trouble as far away from me as possible. And my little high achievers can sit in the back. I do switch kids when necessary, but for the most part, my kids have an assigned spot on the carpet. Also in our lines. But we won't go into that.)
When I announced that they were going to get to sit wherever they wanted to on the carpet, mass pandemonium broke out. A cannon could have gone off in the room and we would have had no clue.
I told them once they picked a spot, they had to stay there for the whole day. No new spots each time we came to the carpet.
One of my little sweeties chose front and center. Right in front of my legs. He is ADORABLE. I have him on the back row because I don't have to worry about him at all. He listens. He understands. He follows directions. He will do no wrong. When he chose front and center, I felt really bad. I wonder how long he's been wishing he could sit up front???? Awwwww.
So . . . inevitably, all of my must-sit-on-the-front-row-so-that-I-can-tap-them-and-refocus-them-every-twenty-seconds kids went directly to the back row and sat down. Of course. No surprise there.
The rest of the kids filled in and I got ready to teach a fun and engaging Houghton Mifflin lesson. Everything to the core, you know.
The Angry Birds Were In Effect.
Right in the middle of my lesson, one of my squirmers (now on the very back row) raised his hand. We'll call him Squirmer since I can't use his real name. I'm pretty sure it's his real middle name so I hope I don't get into trouble.
I called on him. (WHY? WHY? I hadn't asked a question. WHY? I hit myself in the head.)
Squirmer said, "I don't know how to say this."
I did everything in my power not to roll my eyes.
"What's up?" I asked.
"Well, " Squirmer said, "She's not biting me . . . "
I shook my head a little. Tilted it. Scrunched my eyes. "What?"
"She's not biting me . . . " he repeated.
"Who?" I ask. "What?" (Maybe I was teaching a lesson on Question Words and just didn't know it.)
"Pippi," he replied. "She's not exactly biting me . . . I don't know how to say it. " He gestured with his hands as if he kept coming up empty. He didn't know how to say it. Gesture, gesture.
We'll call said student Pippi because that's exactly who she is. Imagine Pippi Longstocking and you've got her. She's in my class this year. She's everything you would imagine her to be.
"Well, if she's not biting you, what's the trouble?" I asked. Now I have my hand on a magnet because it's time to take one down. Obviously. I mean, this is a big time interruption that has nothing at all to do with the Core Curriculum of The Day.
"She's not biting me . . . but she keeps putting her teeth on my knee," Squirmer said.
I blinked. A few times.
"Pippi's putting her teeth on your knee?" I asked.
"Yes," Squirmer said.
"Pippi? Is this true?" I asked.
Pippi (with her thumb in her mouth) nodded. Sad face. Nod.
"Do your teeth hurt?" I asked.
Pippi (with her thumb in her mouth) nodded again. Slowly. Sadder face. Nod . . . nod.
"Do your teeth feel better when they're on Squirmer's knee?" I asked. (Seriously. This wasn't in the curriculum. I checked.)
Pippi (thumb STILL IN MOUTH) nodded again. Slower. Even sadder face. Nod . . . nod . . . nod.
"Okay, then." Deep breath. THINK. THINK! "Pippi, go get a kleenex and hold it against your teeth. Squirmer, scoot way over . . . Farther. A little more. There. Stay."
To Pippi, "If your teeth hurt, use your own knee, okay?"
Since then, I have a wide variety of chew toys available in my classroom now. It appears as if our pencils are the most popular. Bookmarks are a close second.
That was only for one day. Now my kids are all back in their normal spots. This way, I can keep a close eye on Pippi's chewing habits. Wouldn't want anything to happen to my shoes . . .
~~~~~~~~~~~~~~
Thank you soooo much to Kristin, from A Teeny Tiny Teacher, for my guest blogging over here today!! What a fabulous gift!! Whoo hoo!! I love you, girl!!
Hugs and love,
Rebecca