Yeah!! It is Friday!! This year is starting to pick up speed...I can't believe that April is almost here and that means Spring Break, testing, and then summer vacation!!! This week the snow melted and it warmed up into the 70s! I had bus duty this week and I didn't even need to wear a coat! Whoo Hoo!! I hope this means a warm April and May, but in Utah, we always seem to get a freak snow storm in those months.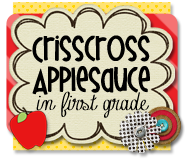 And, YAHOOOO HOLY MOLY FLIP FLOPS!!!! I cannot believe this, but I WON 1st PLACE over at Holly's giveaway at Criss Cross Applesauce yesterday!! Did you see her mega-give away celebrating her new blog look??!! I just LOVE Holly! I've been a devoted follower of hers since she first started blogging. In fact, she told me I was her very first follower!!! That makes winning her give away that much sweeter!!
As part of winning first place, guess who is going to be a guest blogger over here on my little bitty blog?? KRISTIN FROM A TEENY TINY TEACHER!! I am sooooo excited!!! Who doesn't just die laughing at Kristin's blog posts?? She seriously needs to write a book! (P.S. She has the cutest writing paper freebie over there right now! Go check it out!) I feel sooo blessed to have won all the FABULOUS prizes from her giveaway....I'm seriously still in shock!! Thank you soooo much, Holly!!
And now, I flip to a more serious topic....This time of year is almost always high stress for teachers everywhere....The pressures of end of level testing, the crazy behavior in our students that starts to come out with the change of the weather, the moodiness of coworkers who haven't seen the sun since last October....all of this and more can take a toll on the most veteran teacher.
I received an email a little while back, I think back in February, from another teacher....and it couldn't have come at a better time for me. February was a tough month for me at work, and this letter warmed my heart and made me focus on the reasons why we all go into teaching....to touch the hearts of our little ones. So, even though Teacher Appreciation Week isn't until May, I just wanted you to know, I appreciate YOU! And if things are tough right now, hang on, "This, too, shall pass."
Hugs and Love,
Rebecca