Today my class had a fantastic discussion about Dr. Martin Luther King, Jr. We read the book Martin's Big Words, by Doreen Rappaport, and talked about how Dr. King believed in using love to change the world. We had such a wonderful discussion...So many of my students offered up ways to show love, and one of my students brought up our class rule "There is Only Love" and we talked about ways to answer with love, even when people are unkind. We also talked about how sometimes there are rules and laws that need to be changed. Dr. King taught that we should use our words to make change, not violence. We ended our discussion by talking about how everyone can make a difference, (just like Tacky the Penguin, pointed out one child!) We brainstormed our dreams for our world, and we used the paper below to write down and illustrate one of those dreams. I'll have to post photos once they are all finished and up on the room!
Click here to download:
Caitlin and Sarah are hosting another fabulous gift exchange! If you didn't participate in the Holly Bloggy gift exchange here is your chance to jump in another fun one! They are also hosting a classroom Valentine exchange which will be sure to bring smiles to your students' faces!!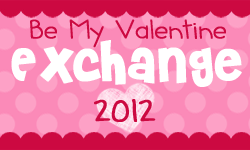 Click here to sign up!
There is so much more to blog about but it will have to wait until the weekend! More tomorrow!
There is only Love,
Rebecca